We present our tailored solutions with preserved vegetation and products with a Valencian author seal, OTOgreen by Rafa Ortega and Wild Stool by Jorge Herrera, at Workspace Expo Paris and at Appartamento Spagnolo at Milano Design Week.
Our limitless vegetal creativity is added to the next great international design events, such as Workspace Expo from May 30 to June 1 in Paris and the Milano Design Week from June 6 to 11. We will be one of the 12 firms selected to represent Spanish design at Appartamento Spagnolo. In them we will present the possibilities of our vertical gardens and artisan vegetable creations tailored to each project, in addition to the first products of our new Signature Collection line.
With Signature, we open a dialogue with author design through collaborations with benchmarks in product and interor designers in which creative talent is combined with our know-how in 100% natural preserved vegetation without maintenance. Unique creations that explore the concept of biophilia and well-being, promoting changes that interior spaces and people need.
Signature Collection debuts with the launch of two collections designed by studios in Valencia, OTOgreen by Gutiérrez y Ortega and Wild Stool by Jorge Herrera Studio. A bet by Greenarea that shows and highlights the creative level of Valencia as the venue for the World Design Capital 2022.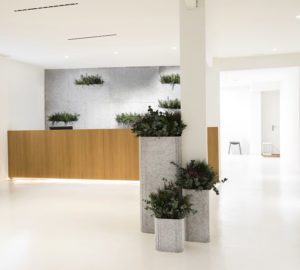 OTOgreen by Rafa Ortega are innovative acoustic, biophilic and sustainable solutions in the form of planters and sound-absorbing and vegetable panels, made with 100% natural materials and recycled polyester fibers from plastic bottles, which reconnect with nature, reduce noise and respect environment.
Wild Stool by Jorge Herrera Studio is the new collection of puffs that directly appeals to the innate connection of human beings with nature and their attraction to wildlife. Stools that exhibit mini-landscapes in their interior recreated with mosses and preserved plants and other natural elements. Unique pieces to follow our instinct and feel nature, combining design, craftsmanship and well-being. An ideal complement for Soft Seatings spaces or homes that, in addition to beauty, provides functionality and comfort.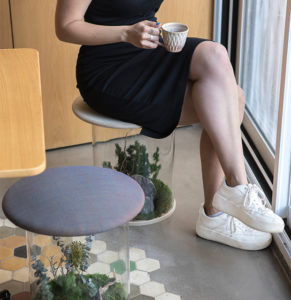 Green creativity at Workspace Expo
Greenarea will display these collections along with the latest in vertical gardening and interior landscaping at stand D10-E09 at Workspace Expo, which takes place from May 30 to June 1 at Paris Porte Versailles Hall 7.2.
Greenarea participates for the first time in the leading annual trade fair in Europe specializing in design, office furniture and the fitting out of work spaces, which will bring together more than 300 exhibitors in this edition.
Visit Us
May 30-31 and June 1
Parc des Expositions – Porte de Versailles
2, place de la Porte de Versailles, 75015 Paris
Hall 7.2– Stand D10-E09
Schedule:
Monday 30: 9 a.m. to 6 p.m.
Tuesday 31: 9 a.m. to 9 p.m.
Wednesday 1: 9 a.m. to 5 p.m.
Free badge>>> https://bit.ly/Workspace_badgegratuit
Green creativity en el Appartamento Spagnolo
In addition, from June 6 to 11, Greenarea has been one of the 12 Spanish brands selected to transform the Instituto Cervantes in Milan into Appartamento Spagnolo, an initiative promoted by ICEX in collaboration with Ofecomes in Milan, and curated by Elle Decor Italia magazine. in collaboration with the design studio DWA, and which is part of the Fuori Salone circuit to publicize the most representative Spanish design in the field of interior design at Milano Design Week.
Among the products chosen to fill the exhibition with color and sensations is the realization of a green ceiling of more than 14m2 and several models of Wild Stool puffs, designed by Jorge Herrera Studio.
The selection of Greenarea in this action, together with large Spanish lighting, furniture, decoration, coating firms… reinforces the international presence of its made in Spain green seal and its commitment to becoming a benchmark in the national and European interior landscaping sector.
Visit us
From June 6 to 11.
Cervantes Institute
Via Zebedia, 5 – Piazza Missori (Milan)
Rooms 2 and 3
Free access
Monday 6: 3:30 p.m. to 8:30 p.m.
Tuesday 7: 11 a.m. to 5:30 p.m.
Wednesday to Saturday: 11 a.m. to 8:30 p.m.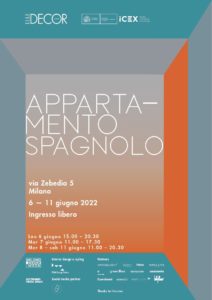 After the summer, the next appointments where you can learn about the versatility of Greenarea's plant solutions that help connect design and nature in interiors in a creative and innovative way will be Hábitat Valencia, within the framework of the World Design Capital, and at Decorhotel Porto.