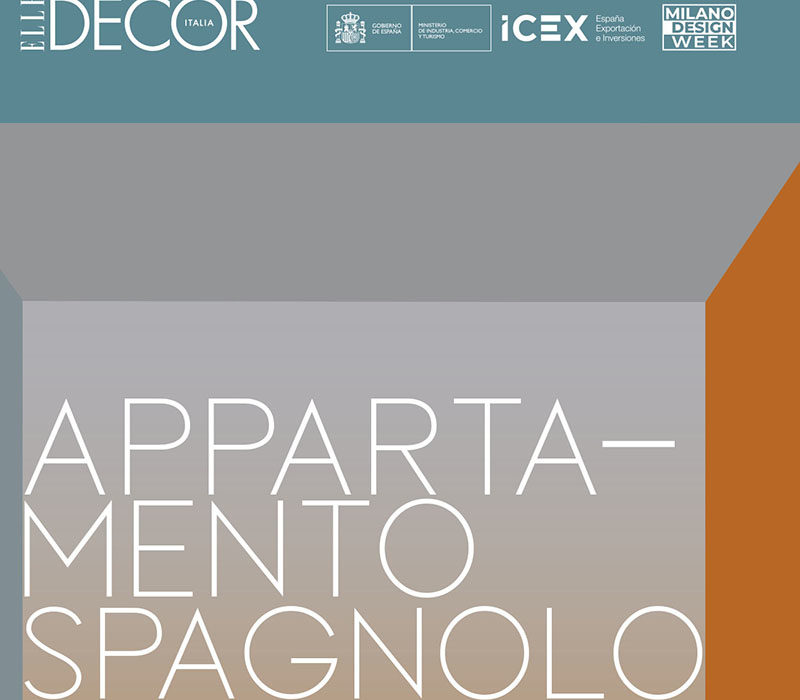 Greenarea is one of the 12 Spanish firms chosen to represent Spanish design at Appartamento Spagnolo 2022 in Milan, the event organized by ICEX in collaboration with Ofecomes in Milan and curated by Elle Decor Italia magazine, which is part of Fuori Salone de Milan Design Week.
From June 6 to 11, our green creativity will help transform the Cervantes Institute in Milan into Appartamento Spagnolo, an initiative promoted by ICEX in collaboration with Ofecomes in Milan, and curated by the magazine Elle Decor Italia, and which is part of the Fuori Salone circuit to publicize the most representative Spanish firms in the field of interior design at Milano Design Week.
Among the products selected from our preserved plant decoration is the realization of a vegetal ceiling of more than 14m2 and the official presentation of one of our great innovations this year, the Wild Stool, designed by Jorge Herrera Studio within our new line of Signature Collection product.
The creative proposal of DWA, the prestigious design studio of Alberto Artesani and Frederik De Wachter that collaborates with Elle Decor magazine in curating the exhibition, reinterprets daily rituals and the use of domestic space at the Instituto Cervantes's headquarters in an abstract key, in the historic center of Milan. The colors, the textures, the quality of the materials… create a second skin in the different rooms of the house that transport Spanish sounds, aromas and sensations in Milan.
Greenarea will have a presence in two of the five rooms of the house, you can see visit guide here. A Mid-finished green ceiling created by hand and tailored to the space will envelop the kitchen decor in sensations and well-being, the social space where aromas and flavors tell experiences that go beyond food, connecting with the roots and culture of a country . The preserved vegetation, 100% natural without maintenance, allows us to hang nature and show it without limits indoors, with green ceilings being a great decorative and experiential bet in any environment.
Presentation of Wild Stool by Jorge Herrera at Appartamento Spagnolo 2022
The Appartamento Spagnolo 2022 is also the chosen place to present a new product from our Signature Collection, creations with an author's seal in which their creativity is fused with our preserved plant decoration. Wild Stool by Jorge Herrera Studio is the new line of biophilic stools that appeal to the innate connection of human beings with nature and their attraction to wildlife. Unique pieces to feel nature, combining design, craftsmanship and well-being. An ideal complement for Soft Seatings spaces or homes that, in addition to beauty, provides functionality and comfort and of which there will be two pieces in the bathroom of the Appartamento Spagnolo exhibition.
The selection of Greenarea in this action, together with large Spanish lighting, furniture, decoration, coating firms… reinforces the international presence of its Made In Spain green seal and makes it a benchmark in the national and European interior landscaping sector.
This year, our most unusual plant decoration will also be present at the Salone del Mobile in Milano at the More+ Contract Hall 12 / Stand 09 stand, with the representation of an Avatar piece from our green collection.
With the reactivation of international events, this 2022 from Greenarea we will be showing the possibilities of preserved vertical gardens, preserved plant decoration and new products such as OTOgreen and Wild Stool in other fairs such as Workspace Expo, Hábitat Valencia or Decorhotel Porto. Don't miss any of our news and follow us on Greenarea Instagram or Greenarea Linkedin.
Meet us at Appartamento Spagnolo 2022
Rooms 2 and 3.
Free access.
From June 6 to 11.
Monday 6: 3:30 p.m. to 8:30 p.m.
Tuesday 7: 11 a.m. to 5:30 p.m.
Wednesday to Saturday: 11 a.m. to 8:30 p.m.
+ info Spain In
More about Greenarea